Florida basketball: What Could Have Been Won't Be
It could have been a deep run or it could have been a fizzle, but whatever it could have been for Florida basketball, we will now never know.
Going into the SEC men's basketball tournament, there were a lot of questions surrounding Florida basketball and its prospects.
Could they make a deep run in the conference tournament?
Could they do the same in the NCAA tournament?
Now, we will never know as the NCAA has canceled both the men's and women's tournaments for this year as the organization attempts to curb the potential spread of the coronavirus or COVID-19.
Now, there's no sense getting into the details of the virus or anything like that. That's not why you are here.
But with an abrupt end of the season, it leaves a lot of unanswered questions about Gator basketball that we can spend some time speculating on.
First is could Florida basketball have made a run in the conference tournament. Of course, any team could have. Florida, if playing the way they did against LSU and in the first half against Kentucky, could have beat just about anyone.
That same logic could have applied to the NCAA tournament.
Then again, if they played the way they did in the first half of their first meeting with Georgia, it could have been a quick end to the season.
What about Kerry Blackshear Jr.? The graduate transfer from Virginia Tech injured his wrist in the first half against Kentucky but came back to the college game for a chance to compete for a national title. That chance is now gone unless the NCAA makes some kind of eligibility rule for players — which it likely won't.
So, for Blackshear and graduate transfer Christopher Sutherland, that's it. No more college basketball.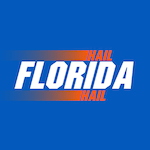 Want your voice heard? Join the Hail Florida Hail team!
Write for us!
Now we get to the elephant in the room: Mike White.
Under his guidance this season, it's safe to say Florida basketball has underperformed.
They went from being ranked No. 6 in preseason polls to not even getting a whisper. While they had their rallies, the team failed to have any consistency, limping to a 19-12 overall record (11-7 in SEC play).
While that doesn't seem all that bad, it is far under the expectations for a team that was seemingly loaded at the beginning of the year.
Should White be on the hot seat? That's tough to say. But, as a die-hard Gators fan, I have to admit I am disappointed, to say the least.
Not sure if the cancellation of the NCAA tournament accelerates the timeline for any decisions like that to be made, but I would have to think Scott Stricklin is giving the notion some serious thought.