Florida basketball: Gators have uphill battle in SEC tourney
Up until Saturday, Florida basketball had a lot of momentum to carry into this week's SEC tournament. That may be gone now.
It was heartbreaking to watch Florida basketball drop an 18-point lead at home to nationally-ranked Kentucky over the weekend.
What's even more painful is the wrist sprain suffered by Kerry Blackshear Jr. after he landed on his hand awkwardly against the Wildcats.
Now Florida basketball comes into the SEC tournament as the No. 5 seed and a little wind taken out of their sails.
After posting a three-game stretch where they knocked off Texas A&M, Vanderbilt and Arkansas, the future was looking pretty bright for Florida basketball. But then a see-saw bout of losses to Kentucky and Tennessee with wins over LSU and Georgia sandwiched in made postseason life a little more interesting.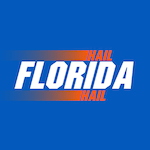 Want your voice heard? Join the Hail Florida Hail team!
Write for us!
But losing Blackshear could be a big thorn in the Gators' side this week in Nashville as the graduate transfer from Virginia Tech is listed as "questionable."
Florida does have the benefit of a first-round bye and will get either No. 12-seed Ole Miss or No. 13-seed Georgia in the second round Thursday afternoon.
At the very least, Florida basketball will be without Blackshear on Thursday. But the injury could carry for the rest of the tournament — which for the Gators would include games against Mississippi State in the quarterfinals and a third game with Kentucky in the semifinals.
If, and it's a big if, the Gators make it to the championship, presumably Auburn or LSU await. Florida basketball is 2-1 against both Tigers — but both wins came at home.
As for replacing Blackshear, the Gators have plenty of size with Omar Payne, Jason Jitoboh and Dontay Bassett — all are 6-foot-9 at least — but very little experience.
Payne is the likely first replacement, but his best game was against Auburn where he was 9-for-9 with 19 points and 11 rebounds. However, that was in January.
Bassett has the most experience behind Blackshear, but he was out seven games this season with a leg bruise.
Regardless, whether you think Florida basketball is in the NCAA tournament or on the bubble, hopes of solidifying a spot will be uphill, to say the least.