Florida football: Gators lose out on 2020 commitment Marc Britt
As with life, Florida football knows that commitments are fleeting. Sometimes they are solid and you can bank on them. Sometimes, you can't.
Florida football knows that commitments are only as good as the signature on the paper.
No signature means nothing is set in stone.
On Friday, Florida football commit Marc Britt suddenly de-committed from Florida and signed to play football at Ole Miss.
Britt committed to the Gators back in November 2019, however National Signing Day came and went with Britt comfortable signing sometime later in February.
Florida football coach Dan Mullen was looking to Britt to provide additional depth at the safety position after the Gators missed Avantae Williams — who signed with Miami over Florida on National Signing Day.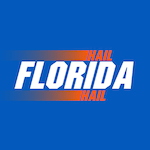 Want your voice heard? Join the Hail Florida Hail team!
Write for us!
The Gators did pull in Rashad Torrence II and Mordecai McDaniel to play safety in the class of 2020. While Torrence or McDaniel may not be as athletic as Britt, it seems Britt may not be settled to play just safety.
One reason why new Ole Miss coach Lane Kiffin would have pushed for Britt would be under the guise of letting him be versatile enough to move around on the field. It wouldn't lock Britt into just playing safety — which is actually his best position.
Britt would branch out to, say, a wide receiver. However, while Florida football could use a receiver or two — to play as backups — it isn't a priority.
Thus, Britt moving on to Oxford may sting a bit, but it's been a solid recruiting season for Mullen & Co. Also, don't forget that the Gators are still in the mix for wide receiver Leonard Manuel — who has committed to Florida football and plans a visit in March — and five-star running back Zachary Evans.
Evans is also planning a visit to Gainesville soon and would be a massive signing for Florida football.
But again, even if Florida loses out on Manuel and Evans, they still have the No. 8 recruiting class in the country. So, I mean, really? I think we're in pretty good shape.