Florida football: Country's best recruits show up for Junior Day
For Florida football, the wealth of talent just seems to find it's way to Gainsville. The class of 2020 has been one of the best in the country and it seems it just gets better and better.
After the year Florida football had last season the idea of competing for a national championship is very realistic next year.
In the world of college football that is great now, but if don't think 2021 then you are behind and will lose out on some of the best.
Florida football held it's first Junior Day of the year and the list of those on hand was quite impressive. Among those that made their way to The Swamp was Tunmise Adeleye.
Adeleye is one of the best players in the county and tops in the defensive line. Florida football has been blessed throughout the years with great defensive linemen and the bunch that may be in orange and blue in 2021 may not be matched.
Tunmise Adeleye DL IMG Acadamy
At 6-3 260 pounds and with the speed of a running back. He comes out of the prestigious IMG in Florida and is wanted by just about everyone in college football.
He can play anywhere on the line you could need him. He has the power to go through you and the speed to go around you. He can play the pass and can play the run just as well.
Although there are many that want him he seems to like it at the Swamp;
"They explained to me how Florida can help me accomplish all of my dreams…I felt like it was a good conversation and I definitely feel like I will be back soon."
But it is those dreams that all want to accomplish and Mullen has a great track recorded for helping those accomplish those dreams. At Florida football he can have the freedom to do more: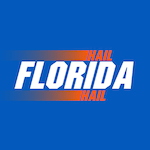 Want your voice heard? Join the Hail Florida Hail team!
Write for us!
"He explained to me that they don't really have set positions, he wants me to play a role like Jabari Zuniga did," Adeleye said on where Turner wants him to play. "That's how they use their defensive linemen, they use them to create mismatches week in and week out. He told me that I would line up as a five, six, three and the zero at times. I will line up all over the line."
Can you imagine a guy like Adeleye pair on the line will Tyreak Sapp, another big recruit for Florida football? The amount of talent they are putting together is second to no one. No, Adeleye did not commit yet, but he seems to really like it at UF and you know what I always say; once you go to the Swamp, you will never want to leave.
Charles Montgomery, Athlete, Valrico, Florida
He is 5-10 and185 pound that is listed as an athlete, that is because that is what he is, an athlete. He can do just about all you want him to do.
He can play WR as he has the speed and the ability to make a cut on a dime. Great hands and oh, did I say speed?
Montgomery can also play running back as well as anyone. He has the ability to hit the hole quick and with a burst of speed that gets him positive yards on most carries. He has a four-star rating right now but don't be shocked if he has a five star before too long.
He was in Gainsville and as all do, he liked what he saw and heard;
"I loved them all," he said on his relationship with the coaches. "Coach Mullen, words can't even explain how great he is. Hopefully, we have a tight connection but I'm pretty certain we'll be close at the end of the day."
At the end of the day, this is the type of player and talent that has been landing with Florida football and he would be a great addition. His style of play fits the Florida football coach Dan Mullen's system and would boost the running game instantly.
He would be a great addition and we would welcome him with a chomp, chomp!