Florida football: Gators win SEC East, columnist says
A prominent columnist in Florida has suggested Florida football will break the grasp Georgia has on the SEC East next year and win the division.
Not sure if it's a bold prediction, but at least one newspaper columnist believes Florida football is on the way to the College Football Playoff next year.
And to do so, he said the Gators will snap Georgia's hold on the SEC East.
Orlando Sentinel columnist Mike Bianchi recently wrote Florida football will do just that in 2020 and even earn a trip to the playoffs.
"In 2020, I believe everything is set up for Mullen's Gators to not only win the SEC, but advance to the College Football Playoff and perhaps win the national championship," Bianchi wrote in a recent column.
And, honestly, there's really nothing to consider he is wrong.
Florida football head coach Dan Mullen has led the Gators to back-to-back 10-win seasons in his first two at the helm — something no other Gator coach can say.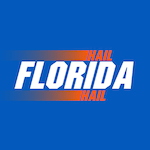 Want your voice heard? Join the Hail Florida Hail team!
Write for us!
He also returns his starting quarterback, two starting receivers, most of the offensive line and has brought in either transfers or recruits to fill in the gaps left by graduation.
Florida football quarterback Kyle Trask returns to lead the offense after a stellar first year under center. Oh, and let us not forget his backup, Emory Jones, is just as capable of leading the offense if need be.
Tight end Kyle Pitts along with wide receivers Jacob Copeland and Trevon Grimes will help lead in the passing game for Florida football.
The offensive line, which was the center of much consternation among Gator fans, will have Richard Gouraige, Stone Forsythe and Brett Heggie returning and with a good amount of experience.
But, you can also look at what's going on around the league to see that Florida has the bowling pins set up nicely for a strike next year.
First, Georgia loses quarterback Jake Fromm. And, on the quarterback front, dominant teams in the SEC — with the exception of Florida and Auburn — will have new quarterbacks under center.
LSU, the defending national champion, loses its Heisman Trophy-winning quarterback in Joe Burrow and Alabama will be without Tua Tagovailoa.
On the schedule, Georgia has to travel to Tuscaloosa to face Alabama while the Gators have LSU at home, Georgia in Jacksonville and Missouri at home. Their SEC road schedule consists of Tennessee, Ole Miss and Vanderbilt — doesn't seem that daunting now does it?
The biggest question could be on defense where Florida football loses the most. Marco Wilson, David Reese, Kaiir Elam, Jeremiah Moon and Georgia transfer Brenton Cox will be back for the 2020 campaign.
And, we have to keep in mind none of this takes into consideration the class of 2020, which is rated as one of the top 10 recruiting classes in the country. There's no telling what any of those freshmen may be able to contribute next season.
The bottom line is that Mullen has all the pieces in place to make a big run to the SEC title and even more.
2020, as it stands now, looks to be a very exciting season for Florida football.