Florida basketball: Someone tell me why Kerry Blackshear isn't an All-American
The Associated Press unveiled its preseason All-America team today and I have to express my disappointment that Florida basketball isn't represented.
First, let me state that I understand it's early and not a basketball has been tipped in a Florida basketball game yet.
But, I am really struggling with something here.
Today, the Associated Press rolled out its preseason All-America men's basketball team and I am, quite frankly, a little shocked.
Not only is there no member of the Southeastern Conference on the team (which isn't THAT big of a deal), but Florida basketball graduate transfer forward Kerry Blackshear isn't either.
I mean, really?
You have Michigan State's Cassius Winston, a senior and one who should definitely be on the list.
Then, there's Seton Hall senior Myles Powell — again, another who I have no qualms with being on the team.
Marquette senior Markus Howard and even Louisville junior forward Jordan Nwora I can accept.
What I can't accept, however, is Memphis freshman James Wiseman.
The 7-foot-1 Wiseman is undoubtedly the top recruit of the 2019 recruiting class and Tigers' head coach Penny Hardaway got a steal by keeping Wiseman in Memphis.
In high school, he averaged 25.8 points, 14.8 rebounds and 5.5 blocks per game — which are all stellar statistics and certainly worthy of making Wiseman one of the top recruits in the nation.
However, he's a freshman and hasn't played a lick of basketball on the college level.
Just like Zion Williamson out of Spartanburg (South Carolina) a year ago, Wiseman is expected to make a huge impact then dance off to the riches of the NBA.
Which is all fine and good.
Where my problem lies is with what I said a second ago: Wiseman hasn't played a single possession of college basketball.
Therefore, I find it rather difficult to suggest he would be a preseason All-American considering we have no idea how he will translate to the college game.
Where I really get irked is because Blackshear — the graduate transfer from Virginia Tech — was the first on the "others receiving votes" list with 23 votes. That was nine votes back of Wiseman.
(For the record, Winston was a unanimous pick while Howard got 57 of 65 votes. Nwora and Powell each got 47 of 65 votes.)
I'm not saying Blackshear has put up stellar numbers, but it was enough for members of the SEC and national media to tab him as the SEC preseason Player of the Year.
Oh, and the fact that he, nearly single-handedly, put Florida basketball in the top 10 in the recent AP preseason Top 25 poll.
Oh, and Blackshear has actually played college basketball.
I'm likely putting way too much stock in this, but it kind of gets me when these phenom freshmen come into the college ranks for what amounts to a tryout for the Association and overtake those players who have decided on a different path.
I have little doubt that Blackshear could have opted for the NBA Draft and been a mid-round selection. But, he decided to take a year and build up that stock.
But, that's a digression from the overall point which is: You make a preseason All-American team if you actually played college basketball the season before.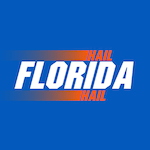 Want your voice heard? Join the Hail Florida Hail team!
Write for us!
No. 6 Florida basketball will open the season on Nov. 5 against North Florida at the Stephen C. O'Connell Center in Gainesville.