Florida football: Dan Mullen eyes 2022 recruits for Gators
With all of the other stuff going on in the world, one thing still moves on, Florida football and recruiting.
Sure we want to know who is coming to Florida football this season and next season is always on your mind.
Dan Mullen and staff go one step more and host a few 2022 recruits that might want to call Gainesville home. The grind to find top recruits never stops and the two guys I will look at are two of the best at what they do.
Defensive lineman Mykel Williams
Williams is a six-foot-five 245 pound defensive lineman out of Columbus, Georgia. A strong side DE that has the size and the speed to dominate.
He has a great first step and he understands the game. He does not get fooled on the end. With the talent that Florida football has locked in on that defensive line, Williams will fit right in. He seems to be very excited to get his offer as well;
"I was surprised when coach offered me," he said on what the offer meant to him. "I was ecstatic to get the offer and every offer means a lot to me."

"I know they have great facilities there," he said on what he knows about Florida. "I like their fan base but I want to visit and see the facilities such as the locker room, the stadium and also the campus. I want to see what their educational department is about too."
A true student-athlete and not a better place to grow both on and off the field then UF. He has a few schools that are all after him as it is clear he can be special.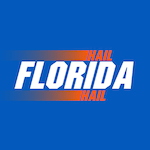 Want your voice heard? Join the Hail Florida Hail team!
Write for us!
But he does want to come back for an official visit and get a good look at Florida football up close. We all know once you come to the Swamp you don't want to leave.
Defensive back Myles Rowser
The six-foot-one 185 pound defensive back from Bradenton, FL. Rowser comes out of the IGM Academy and is a wanted man.
That is, he is a highly sought out DB that has received an offer from Mullen and company. This guy can just play. He has quick feet and makes quick cuts. but the best part of this DB is that he makes tackles. Big hits and not with a shoulder but he will wrap you up and put you down.
Although the word is he is a Michigan recruit, I would put him in the slight recruit at best. But don't listen to me just listen to what he said;
"I like the program a lot and the coaching staff," Rowser said of his interest in Florida. "I'm glad they're following me and I will visit them again."

"I want to make a final decision after this season when colleges can reach out to me directly. I'm definitely taking my official visits."
Sounds like there is still room for him to find his way to Gainsville. I see a future visit fro him on campus as one of those visits.
He would fit right in on what Mullen has been building and add to a legacy of DBU!