Florida football: Gators should work on extension for Dan Mullen
It seems the future plans for Florida football include the head coach as the university is reportedly working on a contract extension.
The plan for Florida football is for head coach Dan Mullen to be a part of the program for years to come.
The Gainesville Sun is reporting the university is working on a contract extension for Mullen that will include a raise in compensation.
Florida athletic director Scott Stricklin said he has been talking with Mullen's agent about a restructured deal, but there is no timetable for the completion of such an agreement.
In his first two seasons at the helm of Florida football, the Gators have finished 21-5 and appeared in back-to-back New Year's Six bowl games — winning both.
"I don't know," Stricklin told the Sun. "I expect Dan to be here a long time."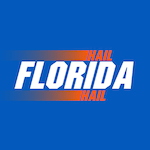 Want your voice heard? Join the Hail Florida Hail team!
Write for us!
The need for a raise and extension are certainly warranted for Mullen based on performance alone.
However, he has been mentioned as a candidate for several NFL jobs, including the Dallas Cowboys. While the job eventually went to former Green Bay Packers head coach Mike McCarthy, Mullen was mentioned because of his ties to Cowboys' quarterback Dak Prescott.
Mullen tutored Prescott during their time at Mississippi State.
His current contract pays him around $6.1 million and makes him the 11th highest-paid coach in college football. He is the sixth highest-paid coach in the SEC behind Alabama's Nick Saban ($8.85 million), Texas A&M's Jimbo Fisher ($7.5 million), LSU's Ed Orgeron ($7 million after a recent contract extension following winning the national championship), Georgia's Kirby Smart ($6.8 million) and Auburn's Gus Malzahn ($6.8 million).
Mullen's contract is entering the third of six years.
The smart money would be for Stricklin to add two years to the contract with a bump to around $7 million per year.
In 2016, Stricklin made Florida baseball coach Kevin O'Sullivan the highest-paid college baseball coach with a 10-year, $1.25 million per year contract.
Keeping Mullen under contract is key to ensure the continued prosperity of the Florida football program. The extension and subsequent pay bump would likely deter any potential NFL jobs that could be thrown Mullen's way.
It also keeps a high degree of regularity for Florida football. Gone would be the year-after-year mention of Mullen's name with a move to the pros. It helps with recruiting and stability.
It's a smart move for Stricklin to close a deal to keep Mullen in Gainesville for years to come.