Florida football: New video series chronicles Gator program
The Florida football program is unveiled a new video series, giving viewers a behind-the-scenes look at how the program really operates.
If you are looking for an in-depth look at what the Florida football program is like in the off-season, a new video series should do the trick.
Coming off an Orange Bowl win over Virginia, the Gators are back to work, getting ready for the 2020 season.
"This is … The Swamp" was unveiled Saturday morning and is an episodic series looking at what goes on behind the scenes of Florida football.
The first episode, called "Earn It," looks at Florida football strength and conditioning coach Nick Savage and his work with players in their offseason workouts.
Savage is in his seventh season working under Florida football head coach Dan Mullen and the video starts with his morning — which begins at around 4 a.m. each day.
"Even though we aren't on the field, what we preach — me and my staff — on a daily basis is you have to be at your best," Savage said. "If you're not, we're going to let you know about it. Because, at the end of the day, we aren't going to let you cheat yourself and your time here."
Every day, at 6 a.m., Savage and his staff meet to discuss the day's workout plan.
Team workouts begin at 7 a.m. Players work at various stations throughout the Florida football weight room.
During the workout, we meet various members of Savage's staff. Strength coaches AT Turner, Tanner Maher, Reggie McGrew — a former Florida football defensive tackle — and Zach Akenberger are profiled as Savage discusses what each bring to the training staff and program.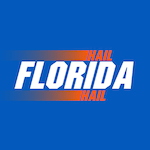 Want your voice heard? Join the Hail Florida Hail team!
Write for us!
The team also takes part in daily "Gator Life" sessions — which are aimed at teaching players various life skills and what it takes to be successful on and off the field.
Shep Inspires LLC CEO C.L. "Shep" Shepherd was one of the featured guest lecturers shown in the video.
"This is my second time listening to Shep," junior defensive lineman Kyree Campbell said. "What I get from Shep about leadership is just being able to hold myself accountable, but also hold my teammates accountable."
Shepherd said he tried to explain the message that tough times don't last, tough people do. The message also extended to teaching players how to look at themselves when times were rough and to praise others when things were going well.
The team starts team agility sessions with the strength team in the afternoon.
"They always focus on the little things," junior offensive lineman Brett Heggie said. "We went from winning four games to two 10-win seasons. Now, to make that next step, it's focusing on the little things. They are going to push us as hard as we've ever been pushed."
During the off-season, team leaders are chosen. Those leaders will draft different players into eight teams to work with during the off-season.
"I think it really makes the off-season fun. It's not just about 'oh, we're going to go workout.' You go in there and people start talking and getting loud, and it really just gets you hyped up. It makes the workouts fun," redshirt sophomore defensive back Marco Wilson said. "I feel like that's how it should be."
Part of those agility drills is an individual tug-o-war where players square off with each other. Points are given for moving a teammate five yards or getting your opposition to drop the rope.
The next day begins with mat drills which are various agility drills down on mats. Players said it was a true test of mental toughness and their ability to push through when they are exhausted.
"It is not easy to be great," head coach Dan Mullen said, following the mat drills. "It takes unbelievable mental and physical toughness."
The next video will be at the NFL Scouting Combine where eight Florida football players are aiming to increase their stock before the 2020 NFL Draft.
"Everybody judges this program on Saturdays, right," Savage said. "What no one understands is all the invisible mornings — what I say the work we put in the dark will shine bright on Saturday."