Florida football: One more big WR and the top class of 2021
That is right, you heard it right, Florida football right now holds the No. 1 recruiting class in 2021.
I know if you are a Florida football fan you have been following the unbelievable recruiting that went on for 2020 and 2021 seasons. Coach Dan Mullen and his staff have done a phenomenal job in recruiting.
I also believe that some of the top recruits were just as much help in landing the recruits they got as anyone.
A collective effort that many believe will result in a title run for many years to come. The thing is when you are a top team, one of the downfalls is losing talent.
You may lose talent cause they move on to the league or just graduate. But you lose valuable coaching talent as well. Teams come picking at coordinators of a great team to catch that same magic.
So a successful system is not only good at recruiting players but also must recruit coaches. This offseason has shown that Mullen and the Florida football department can do just that.
Not only did they bring in tight ends coach Tim Brewster from North Carolina but then reports of Mullen talking with Charlie Strong. Not a problem landing top talent either when you are the best.
2020 and 2021 WR group
Anyone who thinks that the Florida football team will not be efficient on offense, just don't know football.
The Gators are in an elite class in the wide receiver position, and they will be for the foreseeable future. have you seen a list of the receiving group for 2020? Trevon Grimes, Jacob Copeland, Kadarius Toney, Justin Shorter, Jordan Pouncey, Dionte Marks, Jaquavion Fraziars and Exavier Henderson.
Wow, what a list. Where is the weak spot? I dare you to say out loud as this group would make you pay. Strong as any in the country and 2021 we may lose Tony to the NFL but he is replaced by the newest of the Gators, Trevonte Rucker.
Mullen laned the Vanguard High School product and as soon as he did the Gators moved up to the number one spot in recruiting class for 2021.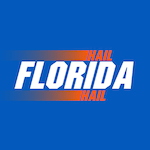 Want your voice heard? Join the Hail Florida Hail team!
Write for us!
Yes landing the four-star WR catapulted them into the number one spot. Can they hold on to that ranking? who knows, but either way Mullen and company have done their jobs. Here is a look at Trevonte Rucker.
Trevonte Rucker WR, Ocala, Florida
The 5-foot-11, 157-pound wide receiver out of Vanguard High School was highly sought by many. He is everything you want in a wideout.
He has speed and knows when to use it. He good hands and runs good routes. He will bring that Gator flair to the game and fits the system nicely. He announced his decision to come to Florida football in a tweet.
https://twitter.com/TrevonteRucker/status/1227247046882680834
He will be a great addition and locks in a receiving group for years to come.
Whatever happens in the next few years the wide receiver position will continue to be a strong point on this team. I have not even talked about the defensive front, or defensive backs, or offensive line.
Thank you, Dan Mullen and staff, as you have given us fans all could have asked for. A run at a title. Welcome to Florida football.