Florida football: What to expect for National Signing Day
Wednesday looks to be a busy day for Florida football as the second round of signees for the class of 2020 are expected to make their decisions known.
It's already been a good recruiting season for Florida football.
The Gators have done well in the transfer portal — picking up players like Penn State wide receiver Justin Shorter, UCLA linebacker Noah Keeter and Miami running back Lorenzo Lingard.
But Wednesday looks to be a wrap to any unfinished business for Florida football as the last holdouts from the Class of 2020 look to make their decisions known.
Here's what we can expect to see Wednesday, in terms of Florida football recruits.
Xzavier Henderson, wide receiver
Henderson is likely the only recruit the Gators know, for sure, will sign with the program on Wednesday.
He made his commitment official during the All-American Bowl back in January and is likely to get his paperwork into Gainesville early. But, of course, it could be later.
Marc Britt, athlete
Here is one of the many uncertainties for Florida football.
Britt could sign with the Gators Wednesday. Then again, he may not sign with anyone. The competition comes down to Florida football and likely Ole Miss.
However, he may decide to wait and not sign until April.
Leonard Manuel, wide receiver
In terms of Manuel, it's not so much about not knowing, but more about waiting to see.
It's widely speculated that Manuel will wait until April to sign a National Letter of Intent as he plans to visit other schools on his list.
Princely Umanmielen, defensive end
The Texas-based four-star defensive end originally committed to Texas in 2019, but he backed off that later in the year.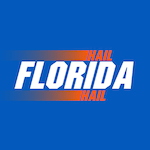 Want your voice heard? Join the Hail Florida Hail team!
Write for us!
Since then, Baylor and Florida are the current frontrunners for Umanmielen, but it's still a toss-up where he might go. He's expected to make his announcement at 3:30 p.m. — well after Florida football coach Dan Mullen addresses the media at 2 p.m.
Avantae Williams, defensive back
If there's a situation where family plays a big part in a college decision, it's with Williams.
He's the cousin if former Miami running back and current Florida transfer Lorenzo Lingard.
However, the Gators are battling with the aforementioned Hurricanes for Williams.
He is expected to make his decision at around 12:30 p.m.
Ashaad Clayton, running back
Clayton has committed to Colorado but visited Florida in late January. However, it's more likely the visit was for the sun and not for the scholarship.
He will announce his decision at 11 a.m. and it's widely expected he will sign with the Buffaloes.
Demarcus Beckwith, athlete
Florida football went after the Florence, Alabama tight end/athlete hard, but there seems to be a lot of competition for his services.
Now, besides Florida, Tennessee and Kentucky are looking to line him up. And as Florida football tight ends coach Larry Scott could be on the way to Howard, Beckwith could lead toward Tennessee.
He plans to announce his decision at 10 a.m.
Regardless of what happens Wednesday, the Gators already have one of the top 10 recruiting classes in the nation just with the 21 athletes who have already signed.
Florida football has already picked up tackles Johnnie Brown, Dexter Gervon and Lamar Goods along with five-star linebacker Derek Wingo and four-star Antwaun Powell and six defensive backs — like Jahari Rogers, Mordecai McDaniel, Ethan Pouncey and Rashad Torrence.
Expect announcements to start at around 9 a.m. and last until the afternoon.