Florida football: Van Jefferson and the 2020 NFL Draft
With a good amount of solid receivers in the 2020 NFL Draft, one Florida football receiver is looking for his place to shine.
With the likes of Alabama's Jerry Jeudy, Oklahoma's CeeDee Lamb and Clemson's Tee Higgins, finding a spot for a former Florida football receiver in the 2020 NFL Draft may be difficult.
Van Jefferson has the ability to run just about any route successfully, can separate nicely from defenders and is explosive with speed.
However, that may not be enough to push the Ole Miss transfer into the first day of the draft.
Right now, projects are that Jefferson is picked up on day three — rounds four through seven of the draft.
But that opens up an NFL team get a solid bargain in Jefferson.
In his college career, Jefferson amassed 175 catches for 2,159 yards and 16 touchdowns. He saved the best for last as his redshirt senior season with Florida football was his strongest.
Last season, Jefferson averaged 13.4 yards per catch and had 657 yards receiving and six touchdowns. In his two seasons with the Gators, he had 1,160 yards receiving on 84 receptions and 12 touchdowns.
He also had a nice 53-yard reception in Florida's win over Virginia in the Capital One Orange Bowl on Dec. 30.
There was a good reason why he transferred to Florida football.
While at Ole Miss, Jefferson sat out his first year and had 999 yards on 91 receptions and just four touchdowns in his two seasons with the Rebels.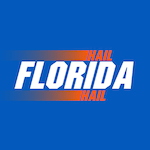 Want your voice heard? Join the Hail Florida Hail team!
Write for us!
In addition to his receiving skills, Jefferson isn't afraid to throw a block with aggressiveness. His quick release from the line of scrimmage and his strong hands give him the potential to shine at the next level.
In the 2020 Senior Bowl, Jefferson added to his value after his teammates voted him the best receiver on the squad. Between that and his playmaking last season, NFL coaches have plenty to look at when it comes to Jefferson.
A potential landing spot for Jefferson is with the Dallas Cowboys at No. 113 (fourth round).
Dallas is not yet confident they will sign Amari Cooper and, even if they did, Jefferson adds another significant weapon for quarterback Dak Prescott to throw to. Additionally, if the Cowboys do sign Cooper, Jefferson could find a solid place with the Cowboys' special teams unit.
With a serious need at wide receiver, another option for Jefferson is the Las Vegas Raiders. Jon Gruden's bunch lost quite a bit when Antonio Brown did … well, whatever it is Antonio Brown does. That leaves a big gap at wide receiver.
It's likely to take more than one receiver to fill that gap. But, it's a position Jefferson could fill in nicely for.
Of course, if they feel comfortable enough with him, either Dallas or Las Vegas could surprise and take Jefferson on day 2 of the draft — likely at No. 82 for Dallas or No. 91 for Las Vegas.
The 2020 NFL Draft will begin on April 23 and run through April 25 in Las Vegas.