Florida basketball: Examining where Gators fall in NCAA tourney
We are close to February and that means time to start looking at where Florida basketball may, or may not fall in the NCAA Tournament.
It's not been the season of fulfilling expectations thus far for Florida basketball.
After entering the preseason touting a No. 6 national ranking, the Gators have quickly found their way out of the Top 25 and continue to struggle to find an identity.
But, it's close to February and time to start looking to see how Florida basketball stacks up when it comes to the NCAA Tournament.
Now, a lot rides on how they perform in the SEC tournament in Nashville in March, but let's look at where the program stands right now.
If the regular season came to an end today and the bracket was built around projections of ESPN's Joe Lunardi, Florida basketball would be in the Midwest Region as the No. 9 seed. They would face the eight seed, Houston in the first round in Omaha, Nebraska.
A win would see them face either No. 1 seed Kansas or No. 16 seeded North Florida.
But, at this point, I am not sure if the Gators earn that high of a seed.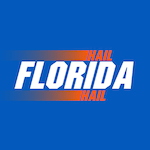 Want your voice heard? Join the Hail Florida Hail team!
Write for us!
Florida basketball is in the midst of a two-game losing streak — including a 72-61 home loss to No. 1 Baylor. Now, while the loss to Baylor doesn't hurt the Gators too bad, the loss last Tuesday on the road at LSU does.
Couple that with losses at Missouri, at Butler, vs. Utah State and at UConn and the Gators haven't done themselves any favors in terms of quality. Only a loss to current No. 5 Florida State helps with the quality factor.
Speaking of quality, Florida basketball has one quality win — a 69-47 home pasting of then-No. 4 Auburn. That's it.
None of their other wins really amount to much in terms of quality.
A lot of that has to do with the fact that outside of No. 13 Kentucky, No. 22 LSU and now-No. 17 Auburn, the Southeastern Conference is sorely lacking in quality teams.
Florida basketball is just 1-1 against the aforementioned "quality" teams in the SEC — although they have a chance for another win when they travel to Kentucky on Feb. 22.
They've beaten one ranked team — Auburn — and lost to everyone else.
That doesn't necessarily reflect a No. 9 seed in the NCAA Tournament, but the committee if fickle and conference matters.
Down the stretch, Florida basketball has three games against ranked opponents — two games against Kentucky and a home rematch with LSU. Besides that, there is no one else in the conference the Gators should lose to.
But we know that isn't the case. Florida is bound to lose to someone they shouldn't and rail on a team they aren't supposed to. That's just college basketball.
It goes without saying, but the best thing for Florida basketball to do in a push for the NCAA Tournament is to not fall victim to teams like Vanderbilt (0-6 SEC), Georgia (1-5 SEC), Ole Miss (1-5 SEC) or Mississippi State (3-3 SEC).
Coincidently, those are the next four opponents for the Gators.