Florida Gators football: 2019 quarterbacks preview
We break down this year's Florida Gators position-by-position, starting with the quarterbacks.
Feleipe Franks
The Florida Gators will head into next season knowing who their starting quarterback will be: Feleipe Franks. Franks started 11 games in 2017 and all 13 in 2018. On the surface, it seems obvious that Franks became a much better quarterback. In 2017, he completed 54.6 percent of his passes at 6.3 yards per attempt.
He threw nine touchdowns to eight interceptions. In 2018, he completed 58.4 percent of his passes at 7.6 yards per attempt. He accrued 24 touchdowns and only six interceptions.
Most importantly, Franks' improvement is evidence against his stronger opponents. Check out the following break down:
2017: Against top passing defenses (opposing passer rating vs FBS winning teams)
#12 Tennessee: 18-28, (64.3%) 212 yards 2 TD 1 int 144.3 rating
#16 Florida State: 18-39, (46.2%) 184 yards 2 TD 3 int 87.3 rating
#17 Georgia: 7-19, (36.8%) 30 yards 0 TD 1 int 39.6 rating
#24 South Carolina: 10-25, (40%) 174 yards 0 TD 1 int 90.5 rating
2018: Against top passing defenses (opposing passer rating vs FBS winning teams)
#1 Miss State: 22-31, (71%) 219 yards 0 TD 1 int 123.9 rating
#2 LSU: 12-27, (44.4%) 161 yards 1 TD 1 int 99.3 rating
#12 Georgia 13-21, (61.9%) 105 yards 1 TD 1 int 110.1 rating
#25 Kentucky 17-38, (44.2%) 232 yards 2 TD 1 int 108.1 rating
* Bowl games not included
The stats suggest that Franks became more consistently efficient and that he made fewer critical mistakes. Also, he became more of a runner. In 2017, he ran for over 10 yards in one game. Last season, he ran for more than 10 yards in 11 different games.
Game Film Analysis: Tempered Optimism
Last year an important variable entered the equation: the hiring of coach Dan Mullen. His ability to scheme around Franks' weaknesses was paramount to Florida's success against top-25 pass defenses. The Gators improved from 1-3 against them in 2017 to 2-2 in 2018.
Mullen is great at creating easy reads for Franks in the short passing game. Franks threw a lot of quick swings and screen passes and could easily find open pass-catchers by selling the run to freeze the linebacker. On September 8 against Kentucky, for example, 16 of his 20 completed passes (including passes with penalties) were for short gains. On intermediate and deep passes, he went 4-for-22 (18.1%). Of the 18 intermediate and long incompletions, the defense dropped four would-be interceptions and accrued one interception.
A part of Franks' problem was that he often did not want to stay true to his strengths. As you can see in the video of Florida's offense against Kentucky and Georgia, Franks often refused to check down when he should have. He otherwise showed impatience and poor decision-making by throwing into tight windows and telegraphing throws downfield. In reality, he was fortunate to have only thrown eight interceptions this year.
One could argue that he threw better downfield in the regular season finale against Florida State and in the bowl game against Michigan. But it's dramatically easier for a quarterback to throw downfield when he has time to sit in the pocket, wait for receivers to get open enough, and lean into his throws. Therefore, don't derive false hope from watching Franks conclude the season against a team that gave up on its season and on another that did not take the bowl game seriously. The same warning applies to Franks' 300-yard, four-touchdown performance in this April's spring game.
Throwing more accurate downfield and intermediate passes even under pressure will be crucial for Franks. Doing so should constitute an important counter against defenses that try to crowd the line of scrimmage and apply press coverage in order to take away his short-passing game.
Besides downfield pass accuracy and decision-making, another thing for Franks to Improve on will be to start games better. For example, against Colorado State, he started 0-for-6 before going 8-for-9. In the first half against Florida State, he started 8-for-15, 133 yards, 0 touchdowns, compared to 8-for-11, 121 yards, and three touchdowns in the second half.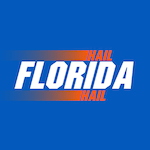 Want your voice heard? Join the Hail Florida Hail team!
Write for us!
Mullen will get an offseason to scheme for a quarterback whose strengths and weaknesses he has grown acquainted with. Besides short passing, running will continue to be a go-to resort. Against Florida State, as you can see in this video, Franks thrived with quarterback draws, following blockers through running lanes, and even making defenders miss. He also threw precise bullets while running and keeping his eyes downfield.
The Back-ups
At the beginning of November, Franks' job looked insecure. A lackluster performance was understandable the week prior against Georgia. But Florida's offense was also struggling to move while getting blown out by Missouri. In the second half, Franks was replaced with redshirt junior Kyle Trask. Trask was clutch on fourth down, intelligent in reading the defense both pre- and post-snap, and quick in his delivery. He finished 10-for-18 for 126 yards and a touchdown. According to PFF, he was Florida's highest-graded player in that game and the second-highest player overall.
However, Trask suffered a season-ending injury. Also, Florida's next opponent was South Carolina with its 82nd-ranked pass defense, which proved to be Florida's last tough opponent of the season. This end-of-season fortune allowed Franks to reestablish himself as the team's starter. So, Trask's time has still not arrived.
Whereas Trask is a pro-style quarterback, redshirt freshman Emory Jones may be better suited as a dual-threat quarterback to play under Mullen. Officially, both players get first-team reps and continue to battle for the back-up role. But in both the March and April scrimmages, Trask was by far the more efficient passer. Jones' running ability notwithstanding, it continues to be apparent that Trask is more prepared by virtue of his intelligence and passing accuracy.