Florida Basketball season in review: Noah Locke
Noah Locke had a breakout season for that no one saw coming, knocking down shots at a high rate on the perimeter and an ability to make big plays for the Florida basketball team. Locke is already a household name for Gators fans and hopes to do even more for the Gators in 2019.
Noah Locke was one of three true freshmen in the Gator's most recent recruiting class and was perhaps the biggest surprise out of the three. Locke was a 4-star guard out of Maryland who managed to earn the third most minutes on the team in his first year in Gainesville. Locke was a great perimeter shooter for the Gators, as he led the team in three-pointers made (81) and three-point field goal percentage (37.9%). He provided valuable spacing that allowed playmakers Andrew Nembhard and KeVaughn Allen space to run the offense.
Locke was a highly prized shooter and playmaker in the 2018 class, receiving offers from 34 different Division I basketball teams, which included several top-tier programs such as Kansas, Ohio State, and Maryland. Locke came out of high school viewed as a player who could create off the dribble and shoot well from outside. Locke committed to the Gators on October 3, 2017, however when he arrived on campus he was told by Head Coach Mike White that, "it may be a challenge" for him to earn minutes as a freshman due to the Gator's depth at guard with veteran Seniors Jalen Hudson and KeVaughn Allen, as well as the arrival of 5 star point guard Andrew Nembhard.
Locke played the first few games for the Gators coming off the bench but immediately displayed an ability to knock down perimeter shots consistently, shooting 41.2% in his first five games. Coach White could not ignore Locke's ability to contribute on offense and moved him to a starting role, something that would not change for the majority of the season.
Locke was put in the starting lineup to provide consistent outside shooting and help create more spacing for a Gators team that loves to shoot the three. The Gators ranked second in the SEC in three-pointers attempted and third in three-pointers made. It is a focal part of the motion offense Coach White employs, which stresses the importance of having a good perimeter shooter such as Locke who demands defenders' attention when he is on the floor. Locke also has a good defensive frame (6'8" wingspan) that allows him to clog passing lanes and force turnovers.
Despite being fifth in the SEC in three-pointers, Locke was left off of the SEC all-freshman team due to the excess of talent in the SEC, and Nembhard had already been selected from the Gators. In no way does this denote Locke's season a failure, as he surpassed all expectations set for him. Locke will look to be a key contributor for the Gators next season and plans to see an increase in shots, as well as more of a ball-handling role, due to the departure of several seniors and the possibility of Nembhard being selected in the NBA draft come June.
Although Locke was overshadowed at times by true freshman counterpart Nembhard, he turned plenty of heads throughout the season with some big volume scoring nights, clutch three-pointers and a few crucial steals.
Locke's season-high came in a crucial midseason contest with conference foe Texas A&M, where he scored 27 points and went 7-13 from three. This was a huge game for the Gators who were struggling in conference play early in the season starting 2-3. Some considered this must-win territory in order for the Gators to secure a good seed in the SEC tournament. Locke had an average first half where the Gators fell behind 46-33 but exploded in the second half hitting three shots from behind the arc right as the period began. He hit a huge shot down the stretch that put away Texas A&M for good by making it a double-digit lead with two minutes left.
This game was a true testament of the outside scoring Locke could provide which could turn the Gators into a true threat if he becomes a more consistent scorer. This game was the last of Locke's nine-game double-digit scoring streak. It would end up being his best stretch of the season, where he averaged 15.2 points on 43.6% shooting from deep. He averaged four three-pointers a game, a truly elite mark for a freshman.
Locke had another career night two games later in an overtime battle with Ole Miss. Locke poured in another 22 points in the 90-86 victory, going 6-11 from outside and once again showing that he doesn't fear the big moment by hitting a big three to put the Gators ahead in overtime, a lead they would not relinquish. When asked about the playing in big games, Locke responded, "These kinds of games are pretty much what I live to play for…This is just something I'm excited about". Locke's ability to hit big shots will be a huge asset for the Gators going forward on a team that will lack experience next season. Over this three-game stretch, Locke made 12 three-pointers at an outstanding 48.3% clip.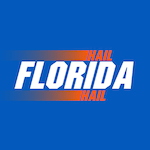 Want your voice heard? Join the Hail Florida Hail team!
Write for us!
It's been said before and it will be said again: Noah Locke is a lights-out shooter. He has a quick release from the top of his jump shot, making it very hard to close out on his outside shots. Locke also possesses above-average ball handling skills that allows him to get to the rim, however, he did not use it much this season as Nembhard and Allen were the primary ballhandlers.
Locke was more of a 3 & D wing, who was excellent in catch-and-shoot opportunities and filling the lane correctly on fast breaks. Locke also did an excellent job of protecting the ball, coming second on the team in turnover rate. Locke's combination of outside shooting, speed, and ability to find good shots wreaks havoc for opposing defenders and allows him to score at will sometimes. The spacing he provides is crucial to Florida's success on offense.
The area that Locke struggled in most was creating for others. Locke possesses a good handle, however, once he begins his drive he hardly looks to pass, thus causing him to fall victim to double-teams and blocks much of the time on drives. Locke only had one game this year with more than two assists and finished with zero assists in twenty-one games. Although Locke was not normally put in facilitating positions, he will need to improve as a passer in order to become an elite guard in college basketball. If Locke became a more willing passer, it would open up his driving lanes and prevent turnovers. Despite these weaknesses, Locke was still able to produce an excellent freshman season that cemented him as an elite outside shooter.
Final Thoughts
When the season began, Locke's role was with the bench unit, and he was expected to be a role player for the Gators due to the surplus of scorers the Gators possessed. Locke worked hard and showed the coaching staff what he was truly capable of. Coach White mentioned, "He's come in here, fought for minutes, and he's really taken that starting position. He's been a very consistent, mature, tough kid. He's even leading a bit as a freshman. He's been a very solid defender for us, and obviously, he's got an ability to make shots at a high level".
Locke is already a household name for Gator Basketball fans and hopes to add more to his legacy next season. Locke has NBA ambitions one day, but for the time being, Gator fans can look forward to him hitting big shots in the O'Connell Center for at least one more year. The addition of several prized recruits, including McDonald's All-Americans Scottie Lewis and Treshaun Mann, makes the Gators a top contender in the SEC next season, and Locke's scoring and consistency will be crucial to the Gator's success.