Can this day get any stranger? I think not. On a day full of sports news from Jessamen Dunker's arrest to Chip Kelly leaving Oregon for Philadelphia, a story breaks which stretches the limit of comprehension. Deadspin reports that the touching story of Notre Dame star linebacker and Heisman finalist Manti Te'o and his dead girlfriend turns out to be a complete and utter hoax, fabrication or whatever else you would like to label it.
The story of Te'o's girfriend and her untimely death was first reported by Sports Illustrated's Pete Thamel back in September then later showcased on ESPN's Gameday. It was a very sad, gripping story about young love, lost love, and a star football player fighting through the range of emotions that it all brings. It captured the hearts and emotions of the sporting nation and may have unexpectedly help launch a Heisman campaign for the Notre Dame linebacker from Hawaii. The problem is, it was all a sham. Now the question is: who knew, how much did they know, and when did they know it?
Shortly after the story broke, Notre Dame released this statement via Facebook:

So Manti Te'o the big superstar athlete with the brains to enroll at Notre Dame was the victim of a "cruel deception"? Something just doesn't sound right about that statement. For his part Manti Te'o came out with this statement shortly after the statement by Notre Dame: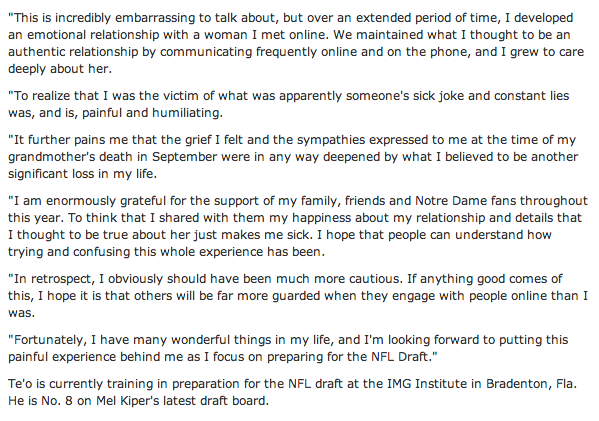 Both statements were provided by BleacherReport via Twitter.
While the story has Twitter abuzz and will be fodder for every comedian from here to the Sunset strip, it still begs the question of when did both Te'o and Notre Dame find out the truth? Did it get swept under the rug so as to not hurt his chances at awards? To prevent distraction during the BCS Championship Game? If so, for shame on both parties. While admittedly an embarrassing story, Te'o and Notre Dame enjoyed the notoriety that the original SI and ESPN stories brought, the hoax should have been brought to light sooner, not left for a blogger to dig up. Realistically, this is merely another black eye for Te'o who was bloodied by Eddie Lacy in the BCS championship game and for Notre Dame who has been the subject of more than one scandalous coverups the last few years.
Certainly, a Heisman finalist should more forthcoming than this. Making the trip to the Heisman ceremonies in New York and all the other award ceremonies while knowing of or further perpetrating a hoax is shameless at best just short of criminal at worst. What about Jarvis Jones and Jadeveon Clowney who were arguably missed out on their due because of the media's love affair with Te'o and Notre Dame? Scandalous. Notre Dame staffers covering up? Where do we draw the line? Players are held to pretty high standards in their personal affairs, how much should institutions be responsible in their professional affairs?
As is usually the case in life, the best stories are purely fictional.
Read Deadspin story here.
Tags: Manti Te'o Manti Te'o's Girlfriend Notre Dame Fighting Irish